This week I'm taking over from Joy Kluver who usually writes up on First Monday Crime on her brilliant blog. For those of you who are interested in coming to the next one, the next event will be on Monday, 3rd June 2019.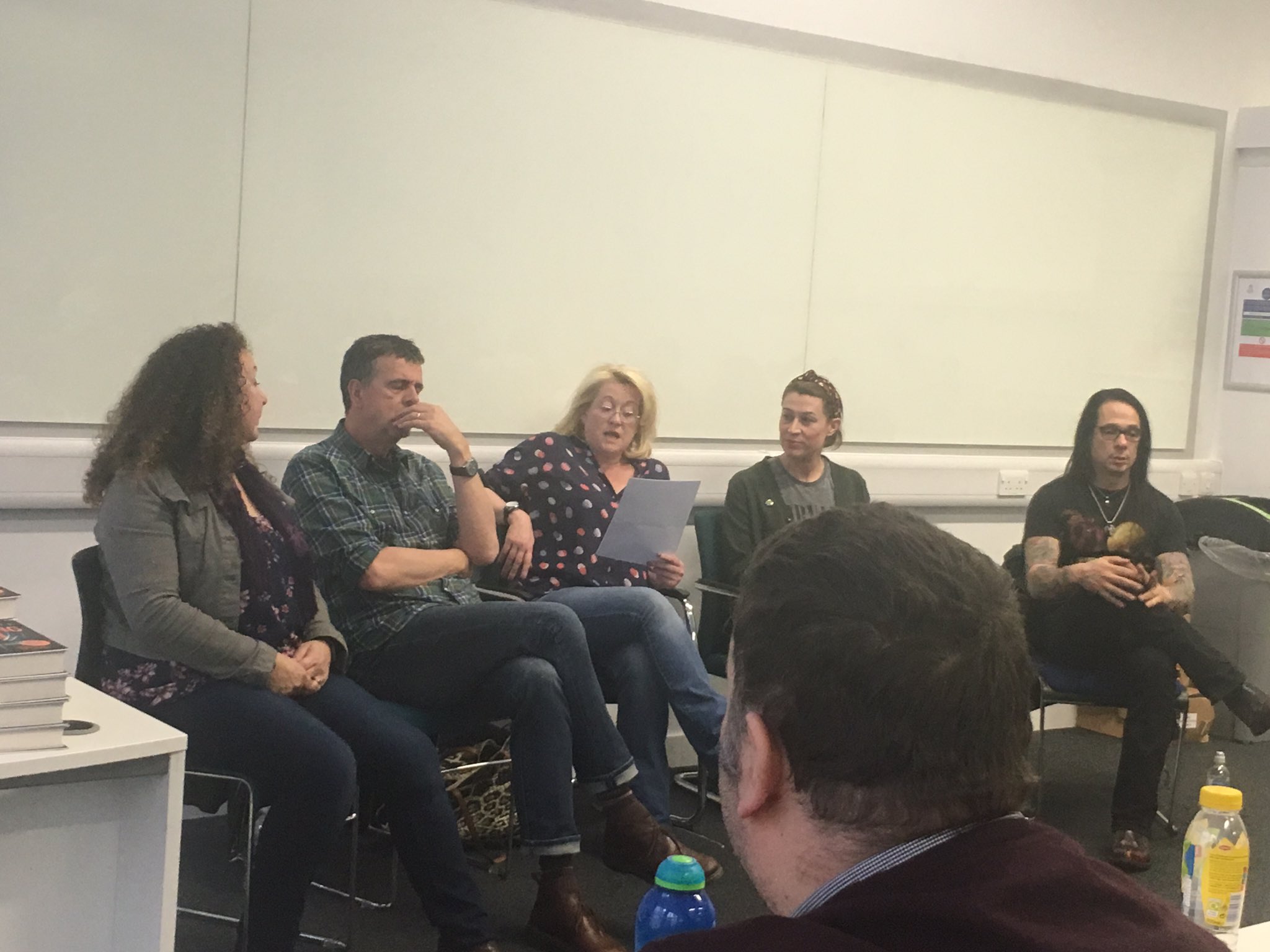 Photo courtesy of Victoria Goldman
This week on Tuesday, 7th May a crowd of crime fiction lovers headed down to City University, London to hear, Deborah O'Connor, Vanda Symon, Mark Billingham and Chris Carter be interviewed by Laura Wilson. Laura was a brilliant moderator, and often her questions and comments drew a lot of laughter from the audience.
She started off by asking the panel about the inspiration behind their latest book.
Mark was first to kick off, his latest novel in the Tom Thorne series is Their Little Secret.
He started thinking about the idea for his latest book when he heard a woman telling an extraordinary lie on the radio, while he was making toast one morning. He then started investigating con men and wondered what would happen if you put these two ideas together.
Chris's latest book Hunting Evil features a character who he first wrote about in An Evil Mind. It was his publisher who persuaded him to write a book where Lucien comes back as he was such a twisted individual and the only killer who his detective, Robert Hunter, has ever been frightened of. This is what makes his latest book different to his previous novels as the detectives know who the killer is straight away.
Deborah said her inspiration for The Dangerous Kind came from a collision of several ideas. Deborah also works as a TV producer, and she met a woman who she was trying to build a TV show around. It was revealed to Deborah that the police have a list of potentially dangerous people who may murder someone one day in the future. A few years later when different scandals, which had been covered up came about, and the rise of true crime podcasts, it made her ask the question, how can you arrest someone before they commit the crime? Chris jumped in here and said in America the police can contact people and let them know they are watching them if they think they will commit a crime one day.
Vanda Symon has always been fascinated by circuses. In her latest book, she wanted to play on how circus people, especially from a travelling circus, can be easy targets, and how a criminal can use them to create a diversion for the police to follow. Laura Wilson said she was relieved Vanda didn't go down the evil clown route and Vanda agreed, clowns are just creepy. In the second book, Vanda takes Sam away from the small town for the purpose of character stretching. Sam is ambitious, and she wants to reach the top of her profession, but she wasn't going to achieve that stuck in the town where she was in the first book.
Another question from Laura for Mark and Chris was had they ever taken their character back in time or if they would ever consider doing it.
Mark revealed that he hadn't planned to release a new Thorne novel for the 20th anniversary next year, but now he's writing a prequel to Sleepyhead, the first book in his series. He said it is a joy writing without using modern technology and going back to good old fashioned police methods to solve a case. So look out for this book next year if you're a fan of the Thorne novels.
Chris Carter said he would never go back in time with Robert Hunter for a book, but he has written a short forty-page story which does feature Hunter as a younger man. He much prefers writing in the present.
When asked by Laura if he would ever write anything other than a police procedural, Chris said the only thing he would consider would be a cookbook, as he's a great cook or a conspiracy novel.
Photo courtesy of Joy Kluver
When asked about suspense, Mark says you have to give the reader characters they care about. Laura went on to say that in Deborah's book we, the reader, know that things aren't going anywhere good for her character, Rowena, but it works for the book. Deborah says when she's reading a novel she holds onto the hope that something bad isn't going to happen to the characters and this is what makes book page-turners.
Another interesting topic which was discussed was the twist. One point raised by Laura was if it had reached a stage where a twist is necessary in the contract between the writer and the reader. Deborah said that there was a time when a book depended on a big twist, but she didn't want The Dangerous Kind to hang on the twist. One book she recommends which had a twist which completely surprised her was We Are All Completely Beside Ourselves by Karen Joy Fowler.
Mark wishes that publishers didn't advertise a twist on the cover of the book. He also said that you only need one good twist rather than lots of different ones throughout the book.
Vanda says that you've got to do a twist in a way that doesn't totally blindside the reader, they should be able to see it coming if they look hard enough and that it's all about signposting. She said readers are treated intelligently and they don't want to disappoint them with a twist that doesn't make sense to the book.
Chris believes that if a reader feels satisfied with a twist, then that is what will get them talking about your book, and this is what will create a bestseller.
Laura then opened questions out to the audience.
One question asked was, name one thing you particularly enjoyed about writing your latest crime novel.
The one thing which the panellists seemed to agree on unanimously was the research they undertook which was the most enjoyable part for them.
Vanda spent time sampling the culinary delights of Dunedin, where her novel is set, and she also got to go and visit a travelling circus and got to step inside the caravans.
Mark said he always enjoys finishing a book. He enjoyed the promotion he was doing for his last book while writing Their Little Secrets. He also said writing the novel isn't enjoyable and that he always feels that he's forgotten how to write when he comes to writing the next one. He said it should get harder as you're trying to write a better book than the last.
And that's a wrap on this month's First Monday. If you are interested in coming along to the June panel more details about who will be attending will be announced shortly. And if you are interested in purchasing the books featured in this post, you can do so by clicking on the following links.