If you're living in the UK you'll no doubt have felt the storms batter the island over the last month. Every weekend it seems that there's been high winds and heavy rain and we've even had some snow thrown into the mix. But hopefully, now that we're into March, the weather's going to start changing for the better as spring is just around the corner.
I've been quite busy on the blog this month, taking part in eight blog tours and reviewing four separate titles. I was determined to catch up on James Oswald's Inspector McLean series as I had missed out on reading the last five books in the series. I've so far managed to read 22 books this year.
At the beginning of this month on the 6th February I attended the launch for A Dark Matter by Doug Johnstone at the Union Club in Soho. Doug Johnstone was in conversation with Mark Billingham about his latest book and even treated us to a few musical numbers. For those of you who don't know, Doug Johnstone and Mark Billingham are members of the Fun Lovin' Crime Writers which also consists of Val McDermid, Chris Brookmyre and Luca Veste, they made their debut at Glastonbury last year. If you ever get the chance to see them, definitely try and do so.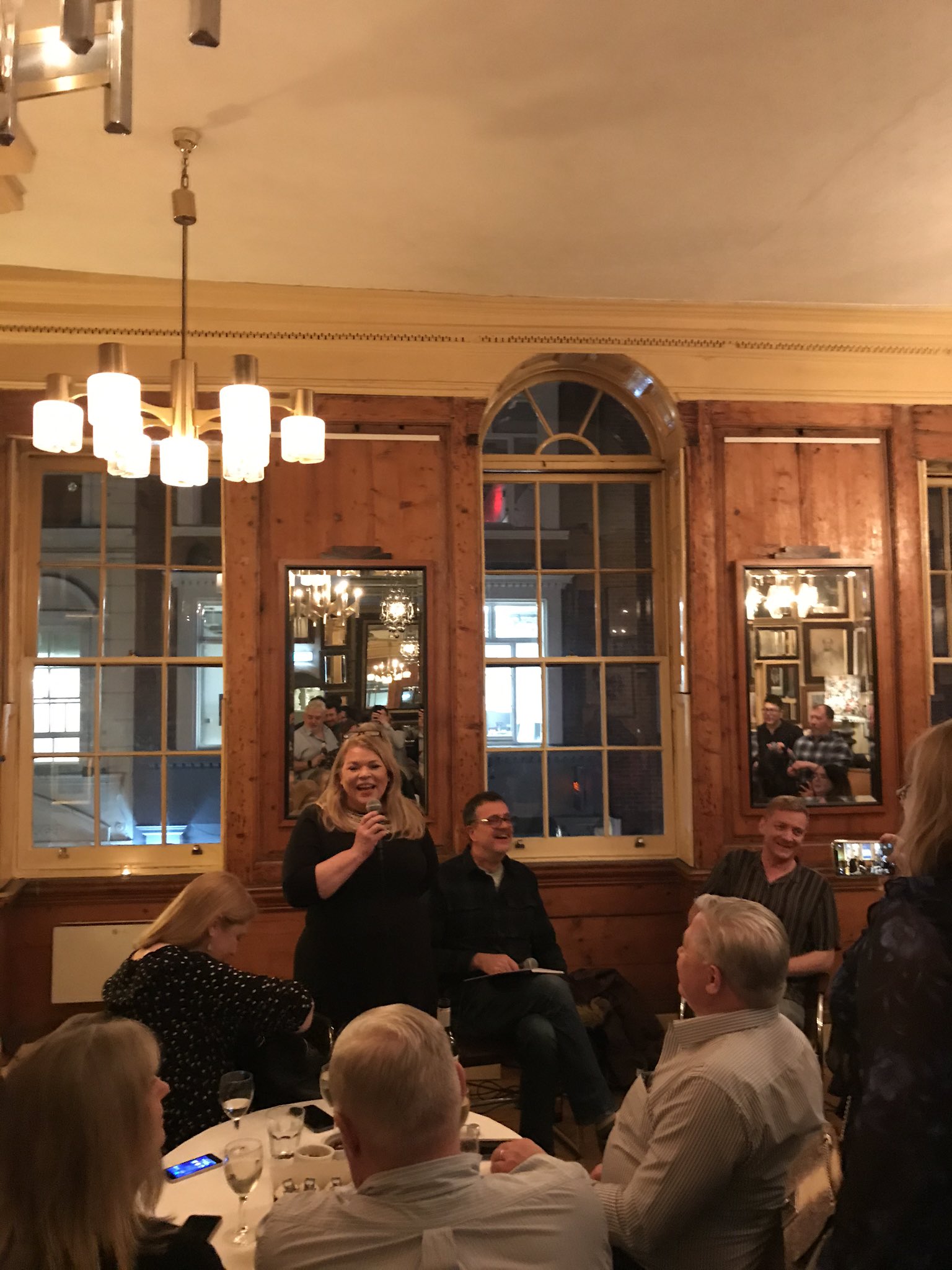 At the launch I was also very lucky to be handed copies of three hotly anticipated books for 2020, Blood Red City by Rod Reynolds, The Waiting Rooms by Eve Smith and The Creak on the Stairs by Eva Björg Ægisdóttir. I couldn't resist starting Blood Red City and I finished it within a couple of days, it will definitely appeal to fans of the BBC's The Capture.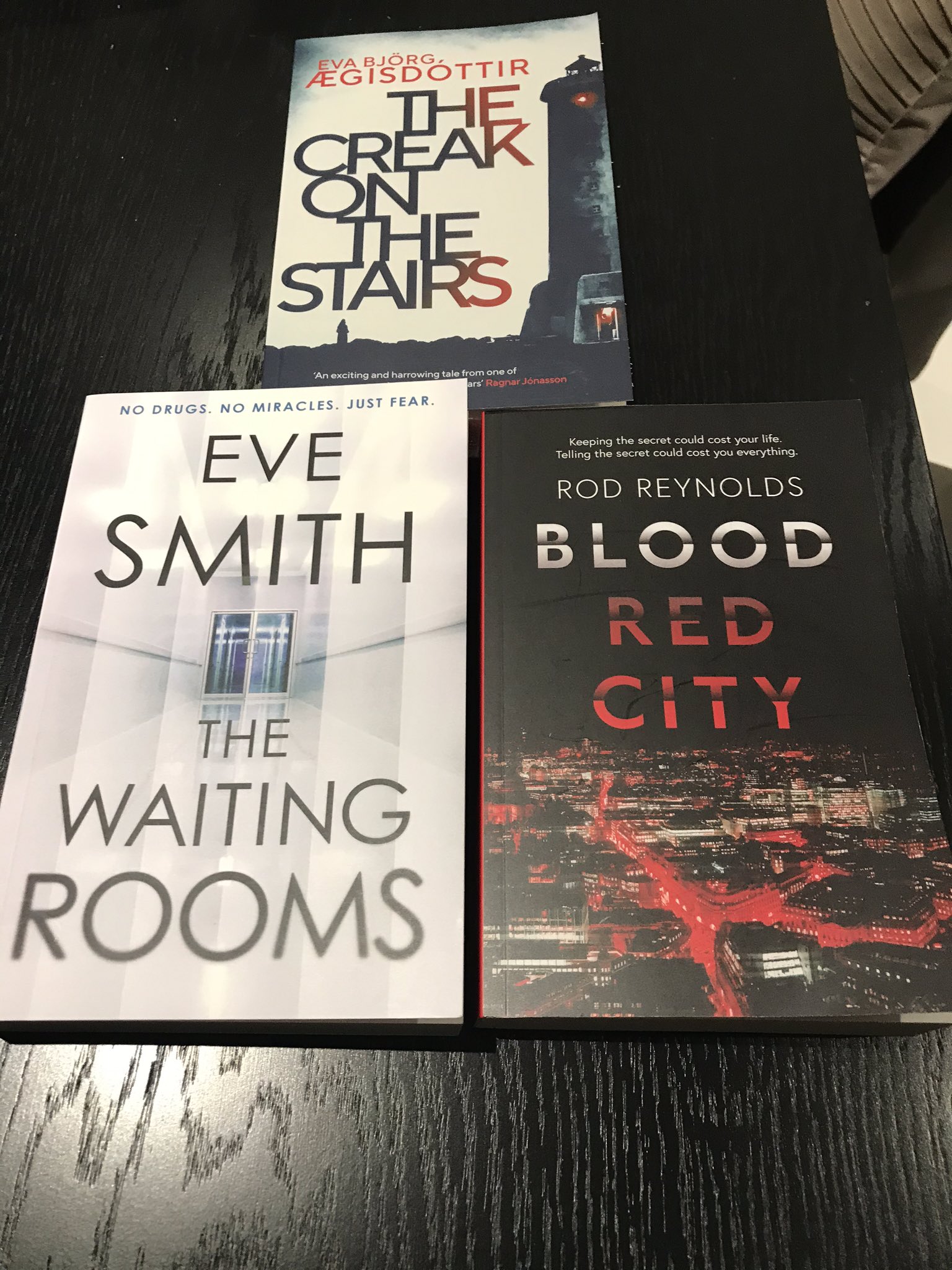 I also received copies of Will Dean's latest Tuva Moodyson thriller, Black River which I am sharing my review as part of the blog tour this month, You Are Not Alone by Geer Hendricks and Sarah Pekkanen and A Knock at the Door by T.W. Ellis.
I was also delighted to see a quote from my review appear on the back cover of Death Deserved by Thomas Enger and Jorn Lier Horst.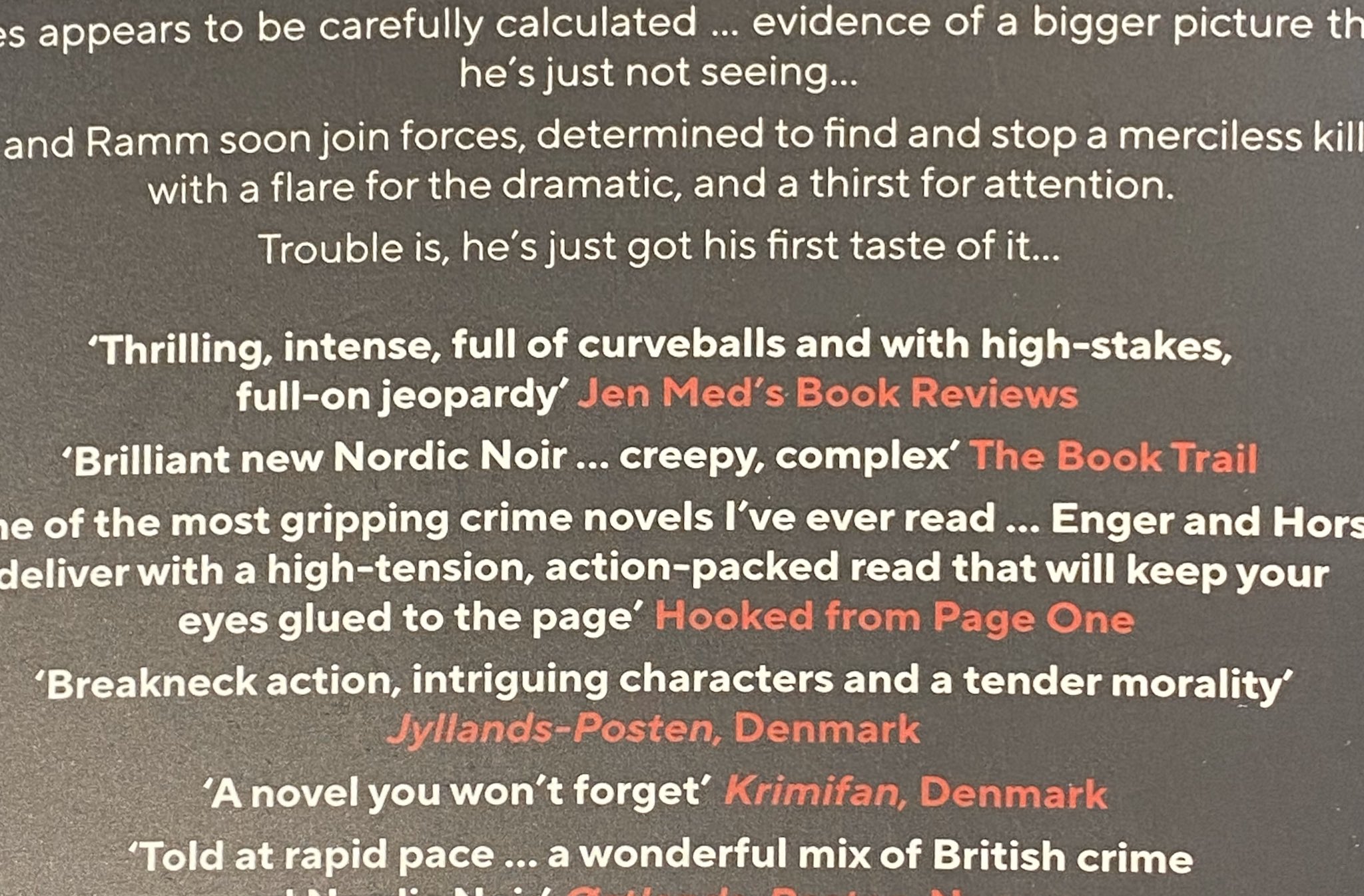 For March I've got eight blog tours lined up, The Waxwork Corpse by Simon Michael on the 11th, Black River by Will Dean on the 13th, Containment by Vanda Symon on the 15th, Mine by Clare Empson on the 18th, The Unbroken by Alex Caan on the 20th, Deep Dark Night by Steph Broadribb on the 27th, The Sleeping Season by Kelly Creighton on the 28th and All in her Head by Nikki Smith on the 30th.
So that's about it for this month. Also do keep an eye out for some more First Monday Crime news this month as it is returning to City University, London on Monday, 6th April. I'll be sharing details about who will be appearing shortly.
Let me know if you've read any of the books I've featured here and what you're reading at the moment. In case you have missed any of my blog posts this month, I've listed the links below.
Death Deserved by Thomas Enger and Jorn Lier Horst
The Wreckage by Robin-Morgan Bentley
Watching from the Dark by Gytha Lodge
The Damage Done by James Oswald
Small Mercies by Alex Walters cover reveal
Written in Bones by James Oswald
The Gathering Dark by James Oswald
Cold as the Grave by James Oswald
Blood Will Be Born by Gary Donnelly
Bury Them Deep by James Oswald